Bebel Net B series high-purity water fountain has a water outflow resistivity of over 10M, and the water quality indexes meet the national first-grade water standards (namely the electrical conductivity of 0.1us/cm). It is a product with relatively mature technology. Since it was launched in 2007, it has been verified by users for more than ten years and continuously upgraded, and its high cost performance is well received by customers.
High purity water machine working principle
Tap water after fiber filter to remove the coarse particle impurities in the water, then use RO ion membrane filtration to remove more than 99% of the ions in water, then use polishing BK3065 type ion exchange resin, remove the rest of the ion in water, electrical conductivity could be achieved with 0.1 us/cm, namely the RO filtration + DI technology, achieve energy saving, good effluent quality, economical and practical use, etc.
Selection data of B series high purity water machine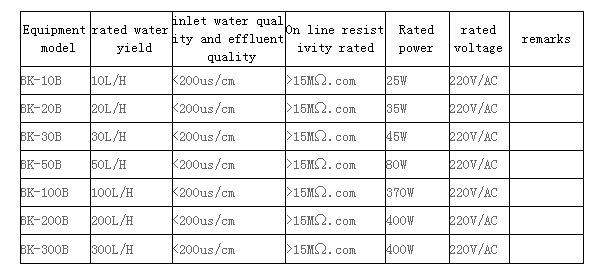 remarks:
1. Some areas need to increase the pretreatment system because of the high hardness of water source.
2. The explosion-proof high-purity water machine can be customized according to the needs of users;
3. High purity water machine with 110V, 60Hz or other special voltage can be customized;
4. High purity water machine for outdoor use can be customized;
5. The above are commonly used B series high purity water machine models, large flow water machine can refer to other high purity water machine series of Qianjing or consult customer service;
6. The above product specification information may be modified with the manufacturer's design, subject to the manufacturer's consultation before delivery.